Public Dialogues – research reports
In the project Public Dialoges #goodtalk, we investigate dialogues between citizens and neighbourhood officials about local topics in various neighbourhoods of The Hague, Rotterdam, and Leiden. We observed a great number of dialogues and experimented with interventions for improvements, both in neighbourhood meetings and online. Moreover, we developed a new online medium that allows for asynchronous local dialogues supported through various creativity techniques.
On this two-year research project, that was co financed through a SIA Raak subsidy, we wrote six reports that are available in the Dutch language:
The final report:
Jos van Leeuwen, Elke Müller, Stefanie Schuddebeurs, Jan Bats, Arnold Jan Quanjer
Five detail reports:
Stefanie Schuddebeurs
Elke Müller, Gijs van Oenen
Stefanie Schuddebeurs, Jan Bats
Elke Müller, Jan Bats
Jos van Leeuwen, Arnold Jan Quanjer
Inauguration of the professor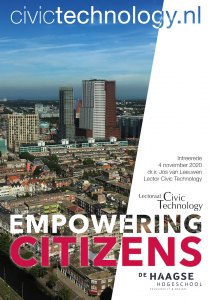 On the 4th of November 2020 lector Jos van Leeuwen gave his inaugurale address. You can watch an 8-minute summary of this event below.
Of course, you can also read (in Dutch) or watch (with subtitles) the complete inaugural address.
Civic Technology empowers people in their role of citizen. Civic Tech can be used, on the one hand, by government to give citizens an active role in governing and designing society, e.g., in participation project or with Smart City technology. On the other hand, citizens themselves can take initiatives in engaging with the community they live in, e.g., using community platforms or with Citizen Science technology.
The research group Civic Technology at The Hague University of Applied Sciences develops knowledge on designing and applying interactive technology that constructively contributes to society, in areas such as democracy, citizen participation, smart city development, community-building, and social media.
The group started its research activities in 2016 – as UrbanUX lab – and was formally established in May 2019.